In November of 2018 I had the chance to present a poster at the Japan Association for Language Teaching conference in Shizuoka, Japan. The poster outlined some work I was involved in during the summer of 2017 along with my colleage at the University of Alaska Fairbanks, Dan Darrow. Here's our short abstract:
Short Abstract
Using a mobile augmented reality app, a short cultural exchange of Japanese university students to the United States engaged in a scavenger hunt style exploration of their host campus, using GPS location, bluetooth beacons, through-the-lens AR, photo uploading, and social commenting. Student reaction to the game was positive, with affordances clear in comparison to traditional classroom activities or a paper-based scavenger hunt. Future iterations will build on this initial pilot experience.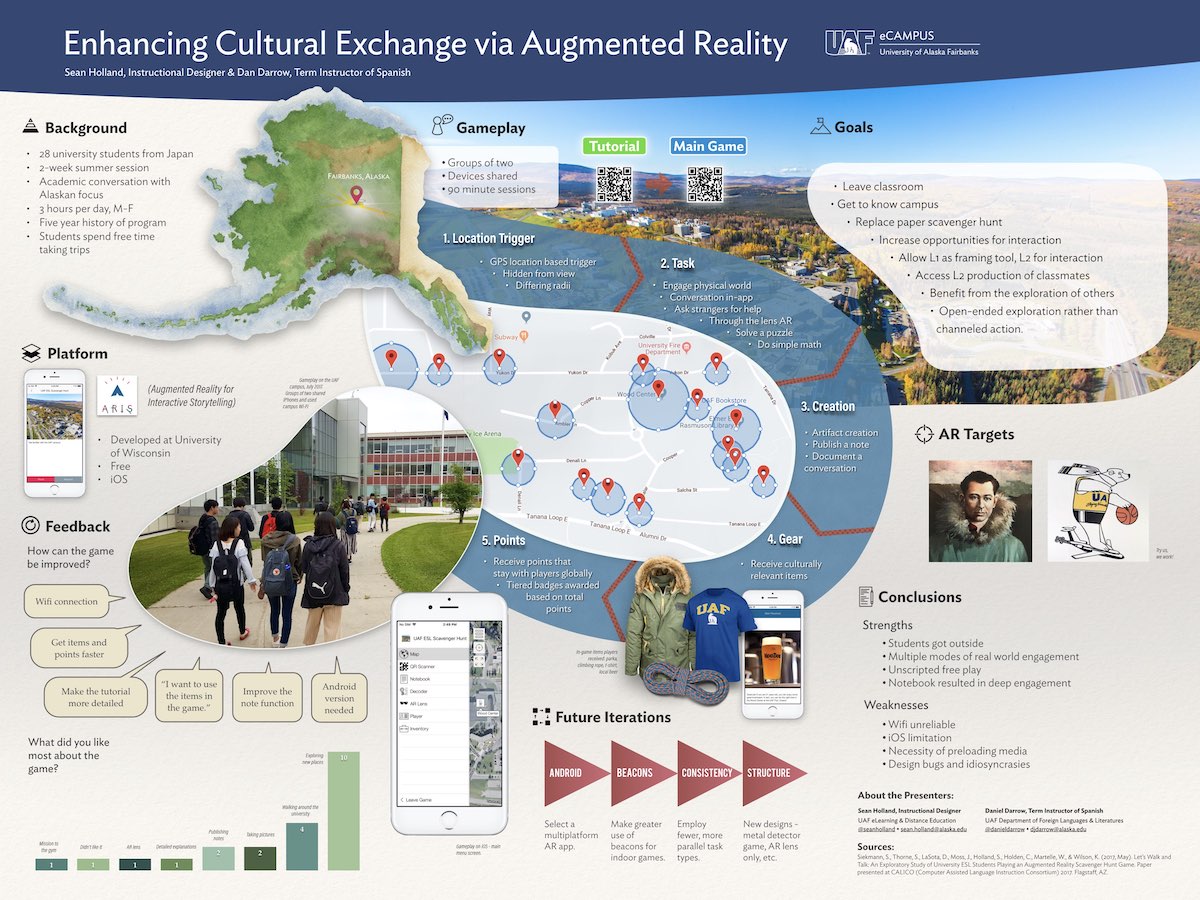 Click on post for a larger, readable version (1.5mb)
Full Abstract
This presentation outlines an attempt to expand an exchange program of 20+ Japanese university students beyond the classroom. In the program, students spend four hours per day over two weeks studying English at a university in the US. With the goal of bringing the student language experience closer to their surroundings, an augmented reality scavenger hunt was developed in ARIS and played over two days. Interacting with the historical environment of the campus and through L2 problem solving in English, it was hoped that students would gain cultural understandings and make connections to their immediate environment. Students worked in small groups using personal mobile devices, and interacted with virtual historical characters as well as real people on campus. This AR scavenger hunt improved upon the original paper-based version due to its familiarity, immediacy, and ability to layer meaningful information and media on real world objects. Student responses were solicited post-activity and were mostly positive. Responses showed nuanced understanding of gameplay mechanics and useful suggestions for improvements. Future implementation will incorporate these improvements and attempt to redesign with higher priority on opportunities for linguistic interaction.
Poster Design
This was my first time designing a poster for a professional conference. I therefore overthought the process completely. I spent weeks just deciding on what piece of software I wanted to design it in. Every template I could find was the standard science-fair three column layout and I wasn't willing to accept that. The best source of materials for gaining inspiration and moving my creating thought process along was actually YouTube. A German gentleman gave some excellent advice on how to structure information and what an appropriate area for citations and credits looked like:
Another showed, silently, the process of laying out a poster on paper first, along with ways to reimagine the logical structure of a design into a less traditional visual layout. This one was what finally helped me break my logjam of apprehension and actually start designing the poster toward a product that I would eventually be satisfied with.
My Process
I used Keynote to design the poster after sketching it out roughly by hand. I have used Keynote before to do things that require a lot of visual elements, and I was pleased that I didn't have to make any serious compromises or devise any major workarounds to create the design I wanted. It was very useful to work on the presentation on a large 5K iMac monitor, although I also did a fair amount of work while in a cramped coach airplane seat.
Conference Presentation
The response to the presentation was quite positive. Many of the attendees were more interested in virtual reality for the purposes of preparing students to go abroad, but I think they appreciated the opposite, of using AR to guide and orient students while they are abroad.
I had very good swag, so some may have simply pretended to be interested, but I made a few strong connections. One instructor was fascinated that I had created the poster in Keynote. I honestly think that my poster design may have interested some more than the project that it was designed to explain.
In terms of the comprehensibility of the poster, I think the intended visual flow of the blue swoop around the location trigger map made sense to people, in terms of answering the question "what did the students do?" The QR codes confused people, since QR codes are common in Japan, many people pulled out their QR reader app thinking that they would be able to experience the interactive elements that way. But since they were ARIS-specific game codes, I had to hand them the iPhone 6 that I had brought as backup. That was effective in order to demonstrate the through-the-lens AR targets, which was a conceptual eye opener for those who needed to get up to speed on AR.